5 ways a retirement estate looks after your home when you're on holidays
One of the big attractions of the retirement lifestyle is the amount of time you'll have to spend on – whatever you like!
For many of us, that means heading off regularly for a well-deserved holiday, whether that's in Australia or overseas.
But for many retirees, there's always the question of what happens to their home while they're away. Unless you can call on some understanding family members, a helpful neighbour, or you feel like trusting your luck with a house-sitter, you'll have to deal with quite a few potential problems, every time you simply want to go away.
What happens when you're away from home:
The lawn will quickly resemble a jungle
The pool can start to look like a swamp
The plants will begin to die of thirst
Your overflowing mailbox will signal you're not home
An army of weeds will invade your property
Maintenance issues may suddenly appear
Bothersome animals may move on in
And of course... there's the chance your home will be broken into.
Yet before your relaxing holiday gets tossed into the too hard basket, there is an alternative to living in a standard house "somewhere in the suburbs".
The peace-of-mind of living in a retirement community
When you choose to live in a lock-and-leave retirement village, you'll enjoy security, convenience, and peace-of-mind whenever you leave home. You won't have to worry about your home when you're away travelling – just pack your bags, lock your doors, and leave!
Here are 5 reasons why a well-managed lock-and-leave retirement community can help you truly enjoy your holidays once you've retired.
1) With your home secure, you can relax while you're away
Whether you're at home or away, when you live in a retirement community you'll know you've made your home in a safe and secure environment.
To make sure someone keeps an eye on your house while you're away, just have a word with the estate management team to let them know your travel itinerary.
You can leave your car (and motorhome or caravan if you're not using it!) securely locked away in your garage, knowing it'll be kept safe and sound while you're off having fun.
2) You don't have to worry about the gardening
Imagine arriving home from your holiday to find not waist high weeds and dying plants, but a neatly mown lawn and a well maintained garden!
When you live in a retirement estate, your lawn and garden will be taken care of as part of your package. So you'll always be able to go away on holidays knowing that your garden will look as good as it did when you left.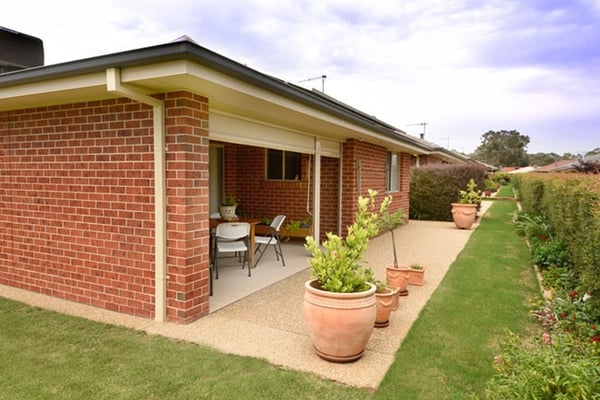 3) You'll always have someone to collect your mail
It's no fun missing an important delivery while you're away – or worse still, having your valuable parcels stolen in your absence!
To avoid this, why not ask village management to empty your mailbox – or even forward your mail to you – while you're on holidays? That way you can relax and enjoy your time off, knowing you won't miss any important mail while you're away.
4) Looking after the pool isn't your job!
When you live in a lock-and-leave retirement estate, you'll never have to worry about cleaning the pool... ever again!
That's because all the communal areas are someone else's responsibility – yet of course, you get to enjoy them all year 'round. In fact you might enjoy the resort-style living so much that you'll love staying home as much as you will going away.
5) You'll have support when the unexpected happens
It's easy enough to do at any age: you rush outside and leave the lights on – or worse still, the iron! Relax – just a quick call to estate management and they'll have it all sorted and your home secured. Even if you just 'think' you might have left something on, a helpful management team will be happy to double-check for you.
Find out more about the Kensington Gardens lock-and-leave lifestyle
Planning a holiday – deciding where to go, finding the best deals, making all the bookings, not to mention packing all your gear! – is demanding enough without worrying about the security of your home while you're away.
That's why it's so much easier when you enjoy a lock-and-leave community where you just know your home will be looked after while you're gone.
The team at Kensington Gardens Albury and Shepparton will be happy to show you around our secure retirement community and help you get a feel for our estates.
If you'd like to see Kensington Gardens for yourself, arrange your personal tour by calling us today or get in touch online to book a time to come in and visit us.