Get peace-of-mind from these clever home features
It's a sad fact of life that house break-ins and theft are one of the most common crimes today. You want (and deserve) to feel safe and secure in your own home – and choosing to live in a retirement estate can certainly give you peace-of-mind due to the added level of security. Most have an on-site manager, and many retirement villages have security systems in place such as CCTV cameras and well-lit streets and paths.
It still pays to ensure your home is safe and secure both when you are there and when you are not. Most house break-ins are crimes of opportunity with intruders gaining access through an open door or unlocked window. You can greatly reduce the risk of becoming a victim of a break and enter, burglary or worse by implementing measures to improve the security of your home.
You'll find most modern retirement villages have already taken care of your security needs. If not, you may need to consider some upgrades before moving into your house for retirement.
1) Security locks
Gone are the days when you can leave your doors and windows open when you pop out to the shops. An open door is an open invitation to a potential thief. You need to be vigilant and ensure all doors and windows are professionally fitted with locking systems.
It's easy sometimes to forget whether you've flicked a lock button, so install key-operated locks on doors and windows. Remove the key after you've locked up and place it out of sight... not on the window sill!
Whether you're at home or not, ensure all doors and windows are securely locked. When leaving your home, it's important you take the keys with you. Never leave them under the mat or pot plant or in other obvious places.
2) Security screens
Nobody wants to be locked up and feel like a prisoner in their own home. Security screens offer you peace-of-mind while keeping the bugs (and other unwelcome visitors) out! You'll also enjoy air flow which is important all-year-round.
If your retirement house isn't fitted with security screens on all doors and windows, do some shopping around before having some installed, as quality and price can vary greatly.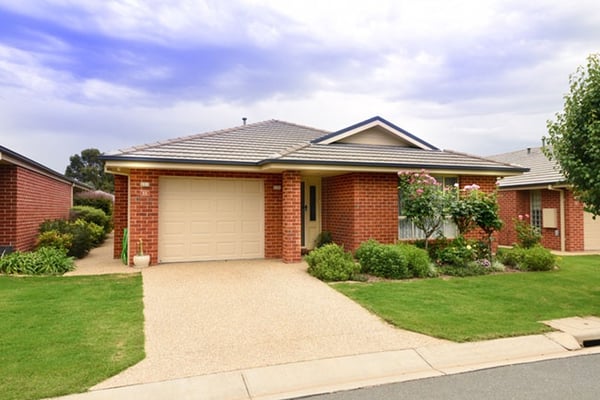 3) Three stage locking windows
The most secure type of windows for your retirement home are three stage locking windows. As the name suggests, there are three locking mechanisms on the windows, including a key lock. Three stage locking windows let in the breeze while keeping your home secure. After locking your windows open or closed, make it a habit to put the key out of sight.
4) Remote garage door
If your car is just sitting outside in a carport, under an awning or in the driveway, then it's an invitation to car thieves or thrill seekers to go for a spin, at your expense. Modern retirement estate homes are fitted with remote controlled, electric garage doors that open or lock securely with the press of a button – and save you having to get in and out of the car every time you leave or arrive home.
There's an important thing to remember when using the remote control for your garage door. Once you open or close the door put the clicker somewhere safe where it won't accidentally get bumped. You don't want to be down the road and have the clicker go off in your bag, leaving your home wide open.
5) Outdoor sensor lights
One very worthwhile addition to your retirement house is outdoor sensor lights. They are usually installed along your driveway and on the footpath leading up to your front door, but can be used anywhere.
Sensor lights are activated by movement and can offer you extra security and safety. You can control the distance the sensor will pick up movement and how long the light stays on.
6) Plug-in timers
With today's technology you can program your house lights to go on or off at certain times of the day or night. This gives the impression you are home if you're not.
The more 'old fashioned' systems plug into an electricity socket on the wall and can program your light as well as TV and stereo.
If you're more tech savvy, you might like to download an app on your phone that can do the same thing. Once the system is set up in your home, you then have complete control no matter where you are.
7) An alarm or surveillance system
While most people living in retirement estates feel safe enough knowing the village has comprehensive security, you might like to look at the huge array of home security and monitoring systems available for the home owner today.
If you're thinking about having an alarm system installed, make sure you check with village management as to what is allowed. If you decide to go ahead, do your research to be sure you choose a reputable company.
Bonus security tip: Get to know your neighbours!
One of the best (and the absolute cheapest) security systems is living in a community of like-minded folk who always keep an eye out for each other.
Retirement estate living naturally lends itself to this type of society. With the high security measure in places in most villages you probably won't ever have the need to worry. Still, it pays to get to know your neighbours and each other's movements so you can quickly pick up if something seems out of place.
Enjoy a secure retirement lifestyle at Kensington Gardens Shepparton and Albury
The team at Kensington Gardens are dedicated to providing a safe, secure, comfortable and happy retirement for our residents. Our estates in Albury and Shepparton offer you a high level of security around the clock, without the feeling of being 'shut in.' Our homes are fitted with modern security features so you can just relax and get on with more important things... like enjoying yourself!

In our guide to 'The Best Retirement House Design Features' you'll find even more great tips and ideas that will come in handy when choosing your retirement home. You can download your free copy today.
If you'd like to see Kensington Gardens for yourself, arrange your personal tour by calling us today or get in touch online to book a time to come in and visit u